As seen on SJP! I don't know about you guys but I happen to LOVE Sex and the City. Just imagine, to be able to own all those wonderful designer clothes. Sigh... One can dream! Best we can do, find an affordable similar alternative. Which is exactly what this Satin Obi happens to be!
Design 01.
The most basic obi belt. Smocked back with velcro fasting. Definitely a must have for your belt collection! Instantly glams up any and all outfits!
code:
a0027
colour:
black
(SOLD)
white
(SOLD)
size:
free size
price:
rm29
Design 02.
Japan, land of the rising sun. Land of modern technology. Land of Geishas! Feel like a geisha with this traditional Japanese obi belt. It may seem a little pricey for some, but just think.. a belt that instantly glams up any outfit, that brings a day look immediately to classy night look.
code:
a0028
colour:
black
(SOLD)
white
(SOLD)
blue
(SOLD)
size:
free size
price:
rm45
Accompanying dress for basic obi.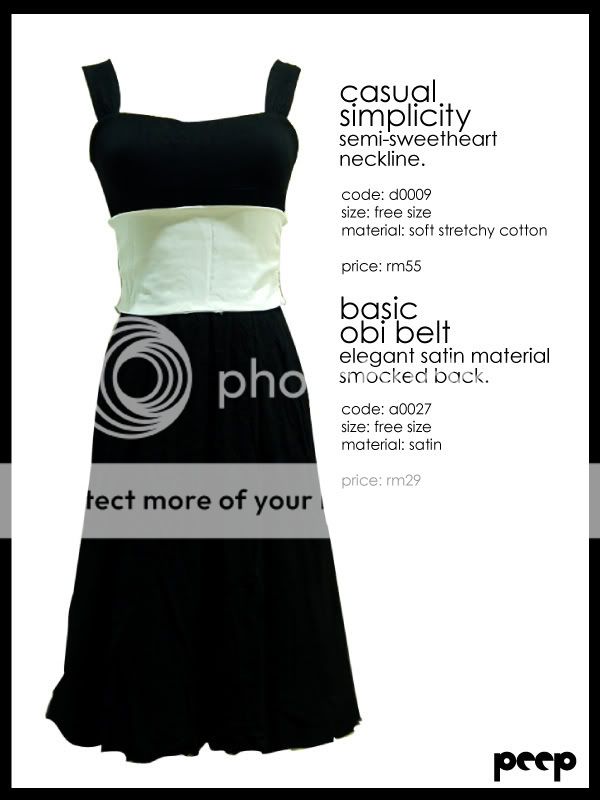 Material similar to Zara TRF T-Shirt collection, so you know that it will hug and skim over your body at all the right places. Little peep hole at the back just to keep things a little fun!
code:
d0009
colour:
blue
(SOLD)
black
(SOLD)
green
(SOLD)
red
(SOLD)
size:
free size
price:
rm55